Made in the USA: An Allfasteners Project History
Some jobs require that a percentage or all of the material be sourced in the United States. Sourcing these products – specially from one location – can be painstaking and costly.
Thankfully Allfasteners isn't new to making and sourcing products from the United States, we've actually been doing it for decades. These years of hands-on experience have given us helpful knowledge of compliances and regulations – and has gained us access to some amazing jobsites!
Made in USA Products for Today's America
Many can name a monument or building that reminds them of the United States, but none epitomize America quite like the Statue of Liberty.
About fifteen years ago, this colossal Statue needed a structural update. Allfasteners stepped up to be the one-stop location providing the anchors needed for the update.
Throughout the Years
Throughout the years, more and more US made requirements allowed us to participate in critically important jobs.
Delaware Bridge
Delaware Bridge required new anchors 150 feet up off the surface of the bridge. Our team went to the site, climbed 150 feet up and conducted pull tests on the newly installed anchors.
Rikers Island
The famous high security prison was in need of new railings for some of their buildings. Our Ohio fabrication team was able to customize 100% recycled American steel and strut to create the railings for the job.
Tappan Zee Bridge
With overhead signage falling onto oncoming traffic, the Tappan Zee Bridge required domestic anchors to secure the signage to the structure. Allfasterners was able to recommend Elco™ screws because they had longer and better drilling tips for the job.
Jobs in the Works Today
AISC Compliance Job
A waste oil company – to meet Clean Water Act and AISC requirements - needed anchors 100% sourced from the United States. Our representatives had the background to put together a proposal that helped the customer meet requirements.
Solar Panels in Tennessee
Required 40,000 mods of threaded rod to be used on a 5G tower in Tennessee – as a part of FCC Commissioner Brendan Carr race to 5G – our fabrication facility in Ohio was able to create the needed rods and ship out to site, helping save time and money.
Into the Future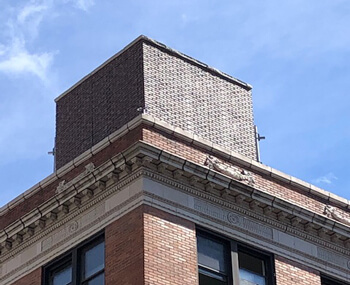 As the industry continues to grow, Allfasteners will be there to provide and service made in the USA products
Concealment
Concealment structures are designed to wrap around a structure so that even the keenest eye cannot spot an antenna in any conceivable application. Concealment helps to hide other unappealing structures from sight. They help to create designs that blend into their surroundings without compromising performance.
From our Monopines to our new Raptor Radome, let our concealment solutions take your poles and structures to new heights.
Need Help Reaching Made in the USA Requirements? Contact Us
If your next job needs to be sourced from products made in the USA don't hesitate to contact Allfasteners. We've been working alongside industry regulators for decades to ensure the products are up to the required standards.
Just give us a call or send us an email and we'll be happy to assist you in any way.